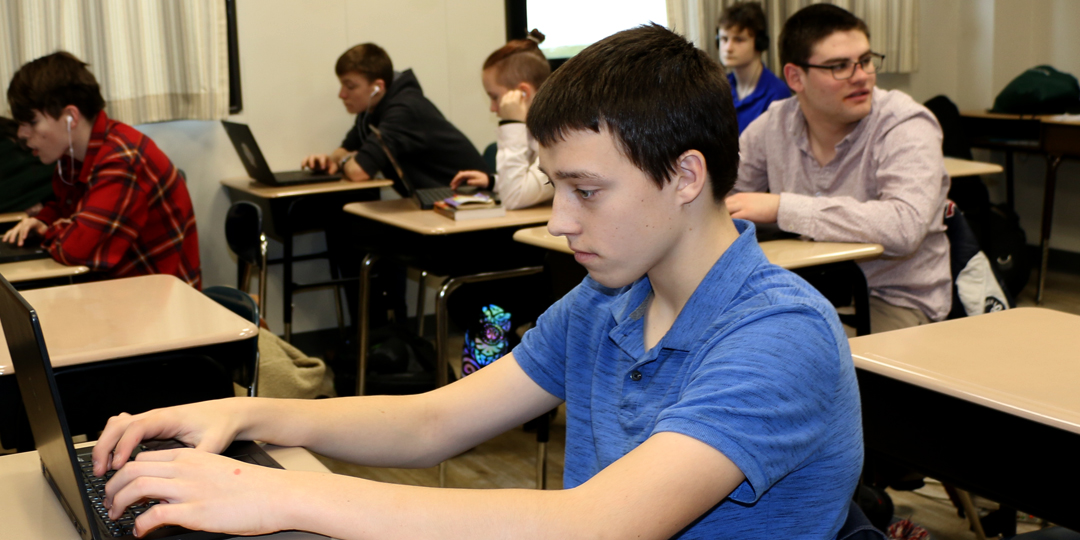 Welcome to Academics at The Glenholme School. From here, you can explore the vast inspirational studies that a Glenholme education provides to meet the needs of all its students.
Instruction, in both self-contained and departmentalized classes, comprises elements of small group and individualized instruction through diverse curricula and presentation methods. These varied approaches help to meet individual learning styles and course work needs. Skills development in studying, critical thinking, organization, creative problem solving, cooperative learning, and positive self-advocacy, plus character education and a strategies approach to education are integrated throughout instruction to help form more independent and motivated learners.
Academic life at Glenholme is an inspirational atmosphere delivered by energetic and committed faculty, who promote an individualized approach to studies that involves the intellectual, personal and social growth compatible to each young person's talents and capabilities. Supportive resources are available to assist students in achieving self-reliance in their academic effort and mastering of their educational goals.
Glenholme Students were accepted to the following colleges and programs:
Nicholls State University – Berklee College of Music Westfield State College – Marymount Manhattan College American University – Paul Smith College – Southwest Junior College – Western CT State University Vista Program – University of Colorado – Westchester Community College – College Internship Program Mitchell College – University of Hartford – Meredith Manor International Equestrian Centre – University of South Carolina – Sumter The Art Institute of America  -Sherwood Conservatory of Music at Columbia College Culinary Institute
Services Provided by The Glenholme School:
Grades 5-12 and Post-Graduate curriculum – both college preparatory and non-college preparatory
12-Month Boarding
Day School Program
Extended Day Programs (before and after school)
Speech and Language Therapy – individual, groups, and teacher consultation
Vocational Exposure / Experience
Additional Services Available:
Occupational Therapy
Tutoring
Standardized Educational Testing
Academic advisers assist students with college preparatory skills and guide them to college selections through research and stimulating their understanding of academic futures. Guidance counselors assist in the formal college process, setting goals and determining immediate needs for college or post secondary accommodations. Preparation for SAT's™ is led by faculty and other professionals here on campus.